Copper Fit Speed Sleeves Honors Historic Hollywood Bridge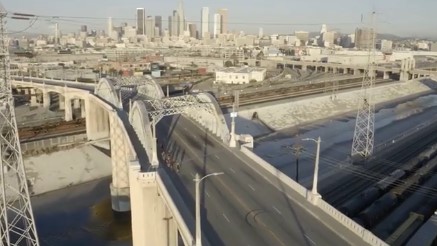 Copper Fit Speed Sleeves are the compression calf sleeves that let you play and train without pain. They represent advanced compression technology infused with copper ions that supports muscles and joints. Copper Fit Speed Sleeves can reduce pain, increase blood flow and improve endurance.
Watch the Copper Fit Speed Sleeves commercial
The Copper Fit Speed Sleeves commercial begins with a shot of runners on Hollywood's historic Sixth Street Bridge. As discussed in a recent Copper Fit press release, this bridge is "the stuff of legends." Over 80 commercials, movies, and music videos occurred on the Sixth Street Bridge and John Travolta, Newton John, Samuel L. Jackson, Ryan Gosling, and Arnold Schwarzenegger are among the many celebrities that shot scenes on this bridge.
Demolition for this 85-year old bridge began last month in order to make way for a new model. Copper Fit was honored to be among one of the last to be seen on this cultural icon before demolition began.
A Copper Fit spokesman said, "Like so many right now, Copper Fit is grateful for having immortalized her in our commercial."